The Emergency Aid is extremely proud to award a major Grant to Radnor Memorial Library as the Named Sponsor of its new Family Play Area, a very exciting element of its Be Part of the Story campaign for the Library's extensive revitalization project. In this, our 102nd year of volunteers working to improve the lives of women, children and families, and to promote education, leadership and community service in young women, we parallel and applaud Radnor Memorial Library's mission to enhance the quality of life in the community through life-long learning for its families and residents.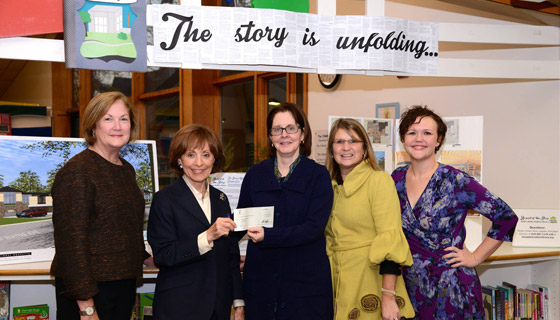 In April we held our beautiful annual Reception at which we introduced our new high school freshmen Founders Award recipients and announced the high school senior winners of our 2016 College Scholarships. We welcomed Maryann Mercede for an inspiring talk on her work with Teach for America.
In March we put on our annual Career Day for the girls, an afternoon at which women from The Emergency Aid and/or the community talk about their professions: why they chose them, how they ended up where they are, and advice they may have for the girls. This year an Assistant District Attorney from Montgomery County and a former FBI agent shared their experiences and answered questions about their educational background as well as their day-to-day lives.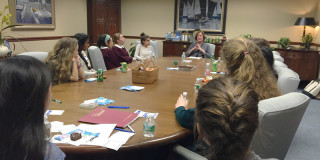 The junior girls organized a trip to The Ronald McDonald House. Each year a Junior takes charge of this event, contacting The House and setting up a date on which the girls will serve breakfast for the families who are staying at the house. She then contacts the girls to plan what each girl will bring. Last year they invited Cinderella to take pictures and chat with the children, which added lots of fun.
In early January 2016 we had our annual Tea, which reinforces for them how important mentoring and networking is. Many current and former Founders girls attended to catch up with old friends and make new acquaintances, strengthening friendships and contacts that can, and do, continue through college and beyond.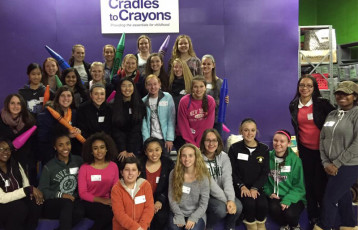 In November 2015 our Founders girls volunteered at Cradles to Crayons, a local organization that provides clothing and other essentials to area children. The girls really enjoyed cleaning, sorting and packing donated items, and some of their parents even joined them.